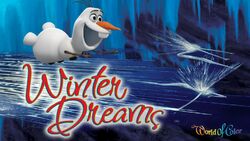 Winter Dreams is World of Color's Holiday Edition of the same show- hosted by Olaf the Snowman from Disney's Frozen.
Featured Movies & Characters
Frozen- Olaf, Elsa, Sven, etc. TBA
Bambi- Bambi & Thumper
Fantasia (1940)- The Winter Fairies from "The Nutcracker" suite
Toy Story- Woody, Buzz, Jessie, Bullseye, Mr. Potato Head, Rex, etc.
More to Come...
Gallery