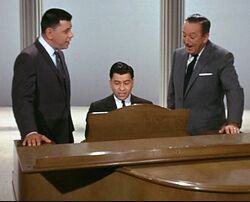 Walt Disney was an American animator and entrepeneur, the founder and namesake of the Walt Disney Company, as well as the creator, designer and namesake of the Disneyland Park and Magic Kingdom theme parks, although he did not live to see the opening of the latter. His ideas also heavily influenced the creation of the Epcot theme park.
Ad blocker interference detected!
Wikia is a free-to-use site that makes money from advertising. We have a modified experience for viewers using ad blockers

Wikia is not accessible if you've made further modifications. Remove the custom ad blocker rule(s) and the page will load as expected.