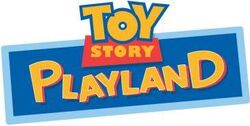 Toy Story Playland (also known as Toy Story Land in HKDL) is an area at Walt Disney Studios Park and Hong Kong Disneyland. The area is based on the Disney·Pixar film series Toy Story. In France, it is part of Toon Studio and opened on the August 17, 2010. In Hong Kong, Toy Story Land is opened on November 17, 2011.
Walt Disney Studios Park
During Mickey's Magical Party in 2009, information was leaked about an expansion of Walt Disney Studios Park, the resort later confirmed this. The new Pixar themed area will help promote Toy Story 3. The area is designed to "shrink the guest" down to being the size of a toy and to play in Andy's Backyard with his toys from the movies. It had done this through using highly immersive theming, using bamboo to act as giant blades of grass surrounding the area, the use of many themed props and characters from the Toy Story movies such as a giant Buzz Lightyear, a giant Rex, an oversized paper plane and a large ball from the first Pixar short, Luxo Jr. The area also features numerous photo opportunities. Construction of the area started in late 2009 and was finished on time. The new area is located to the right of Walt Disney Studios Park, behind the Art of Disney Animation. It has been rumored that the hugely popular Toy Story Midway Mania attraction, currently found in Disney's Hollywood Studios at the Walt Disney World Resort and Disney's California Adventure Park at the Disneyland Resort may be built here in a few years time.
Attractions and Entertainment
Green Army Men Meet & Play
Restaurants
Shops
Gallery
| | |
| --- | --- |
| | This page uses Creative Commons Licensed content from the The Disney Wiki. The list of authors can be seen in the page revision history (view authors). As with the Disney Parks Wiki, the text of The Disney Wiki is available under the GNU Free Documentation License. |
Ad blocker interference detected!
Wikia is a free-to-use site that makes money from advertising. We have a modified experience for viewers using ad blockers

Wikia is not accessible if you've made further modifications. Remove the custom ad blocker rule(s) and the page will load as expected.