Tiki Juice Bar

Restaurant Type

Snacks, Drinks

Location

Adventureland

Park

Disneyland Park CA

Similar Dining Places

Aloha Isle, Walt Disney World's Magic Kingdom FL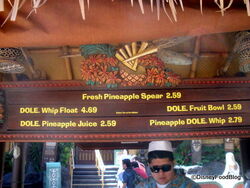 General Information
The Tiki Juice Bar is a snack shack-like building located in front of the attraction Walt Disney's Enchanted Tiki Room in Adventureland at Disneyland Park CA. It serves the park's popular Pineapple Dole Whip drink/dessert. The lines for the dish is extremely long, for about 10 minutes to get it. A similiar snack shack is located at Walt Disney World's Adventureland's Aloha Isle.
Menu Items
The shack serves Pineapple Dole Whip, along with other snakss and soft drinks for patrons to enjoy.
Ad blocker interference detected!
Wikia is a free-to-use site that makes money from advertising. We have a modified experience for viewers using ad blockers

Wikia is not accessible if you've made further modifications. Remove the custom ad blocker rule(s) and the page will load as expected.