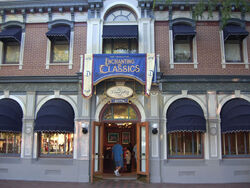 The Disney Gallery is an attraction and merchandise location at Disneyland Park. From 1987 to 2007 it was located just above Pirates of the Caribbean; in 2009 it moved to its current location on Main Street, U.S.A..
Website Description
Appreciate the imagination and planning used to create some of your favorite Disneyland Park attractions at The Disney Gallery, which has reopened in a beautiful new location inside the former Bank of Main Street building.

The Gallery is filled with original sketches, renderings, and illustrations by legendary Imagineers and artists, as well as such genuine Disney artifacts as intricate models and unforgettable costumes. Also on display is captivating original art by current and former Disney artists. Be sure to look inside the vault to see a special Disney masterpiece on display.

While you're there, browse the Gallery's shop for unique gifts, limited edition prints and signed original works.
External links
Ad blocker interference detected!
Wikia is a free-to-use site that makes money from advertising. We have a modified experience for viewers using ad blockers

Wikia is not accessible if you've made further modifications. Remove the custom ad blocker rule(s) and the page will load as expected.