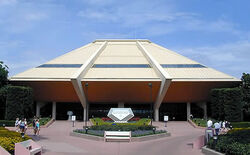 Horizons was an Omnimover attraction in Future World at Epcot that took guests into the future of what earth might be like based on scientific advancements. The attraction opened on October 1, 1983 on the first anniversary of the opening of EPCOT Center. The ride closed permanently on January 9, 1999 due to a sinkhole beneath the building, much to the dismay and public outcry of fans. The symbol used for the ride from 1983-1994 (shown right) symbolizes the sun rising over the land, representing a new horizon.
Ad blocker interference detected!
Wikia is a free-to-use site that makes money from advertising. We have a modified experience for viewers using ad blockers

Wikia is not accessible if you've made further modifications. Remove the custom ad blocker rule(s) and the page will load as expected.