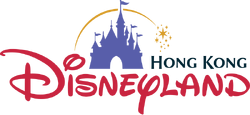 Hong Kong Disneyland (Traditional Chinese: 香港迪士尼樂園) is the first theme park located inside the Hong Kong Disneyland Resort and is owned and managed by the Hong Kong International Theme Parks. The park officially opened on September 12, 2005. March 27, 2008 - October 15, 2016
The park consists of seven themed areas: Main Street, U.S.A., Fantasyland, Adventureland, Tomorrowland, Grizzly Gulch, Mystic Point, and Toy Story Land. The theme park's cast members speak in Cantonese, English, and Mandarin. Guide maps are printed in traditional and simplified Chinese as well as English, French, and Japanese.
Hong Kong Disneyland currently occupies 27.5 hectares (68 acres) and has a daily capacity of 34,000 visitors, the least of all Disneyland parks.
Current attractions
Parade
Gallery
Concept Art
| | |
| --- | --- |
| | This page uses Creative Commons Licensed content from the The Disney Wiki. The list of authors can be seen in the page revision history (view authors). As with the Disney Parks Wiki, the text of The Disney Wiki is available under the GNU Free Documentation License. |
Ad blocker interference detected!
Wikia is a free-to-use site that makes money from advertising. We have a modified experience for viewers using ad blockers

Wikia is not accessible if you've made further modifications. Remove the custom ad blocker rule(s) and the page will load as expected.