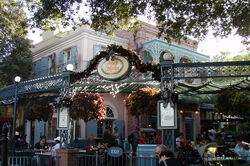 French Market Restaurant is a quick-service restaurant in New Orleans Square in Disneyland Park at the Disneyland Resort in Anaheim, California. It serves Cajun cuisine and hosts performances by the Royal Street Bachelors.
Ad blocker interference detected!
Wikia is a free-to-use site that makes money from advertising. We have a modified experience for viewers using ad blockers

Wikia is not accessible if you've made further modifications. Remove the custom ad blocker rule(s) and the page will load as expected.