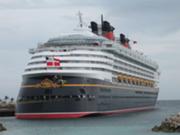 The Disney Wonder is the second ship that's part of Disney Cruise Line. The Disney Wonder's Maiden Voyage was August 15th, 1999. It has 11 decks, can accommodate 2,400 passengers in 875 staterooms with a Cast of about 950.
Restaurants
Animator's Palate
Triton's
Parrot Cay
Adults Only:
Activites
Family
Buena Vista Theatre
Mickey Pool
The Walt Disney Theatre
Stage Shows:
Disney Dreams-An Enchanted Classic
The Golden Mickeys
Toy Story- The Musical
Youth
Ages 3-12
Disney's Oceaneers Club
Disney's Oceaneer Lab
Ages 11-14
Ages 14-17
Adults
Quiet Cove Pool
Cove Cafe
Cadillac Lounge
Diversions
Outlook Cafe
Promenade Lounge
Signals
WaveBands
Ad blocker interference detected!
Wikia is a free-to-use site that makes money from advertising. We have a modified experience for viewers using ad blockers

Wikia is not accessible if you've made further modifications. Remove the custom ad blocker rule(s) and the page will load as expected.