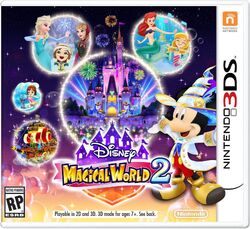 Disney Magical World 2 (Disney Magic Castle: My Happy Life 2) is a Nintendo 3DS game released in Japan on November 5, 2015, and will be released in the United States on October 14, 2016. It is the sequel to the Nintendo 3DS game Disney Magical World.
Synopsis
"Disney Magical World 2, the follow-up to the popular franchise, lets players enjoy a variety of new adventures in six Disney-themed worlds, such as exploring the world of Disney Frozen, dancing with Disney princesses or soaring through special Magical Dream events. Players will encounter and interact with well-known characters like Mickey Mouse, Minnie Mouse, Goofy, Elsa, Anna, Olaf, Ariel, Donald Duck and Daisy Duck."
Gameplay
Disney Magical World 2 is a life simulation game following the player throughout Disney-themed worlds. It retains some features from its predecessor including building furniture, clothing and using ingredients. There are new features such as riding a boat and Disney characters who never appeared in the first game will be featured in the game as well.
Artbox / Title
Artworks
Gallery
Photos
Screenshots
Characters
Voice Cast
Bret Iwan as Mickey Mouse
Russi Taylor as Minnie Mouse and Clarice
Tony Anselmo as Donald Duck
Tress MacNeille as Daisy Duck and Chip
Bill Farmer as Goofy and Pluto
Corey Burton as Dale
Voice Sound
The making of Disney Magical World 2 voice sound for the video games.
Download all voices at once: click to download
Disney Characters Voices
Ad blocker interference detected!
Wikia is a free-to-use site that makes money from advertising. We have a modified experience for viewers using ad blockers

Wikia is not accessible if you've made further modifications. Remove the custom ad blocker rule(s) and the page will load as expected.