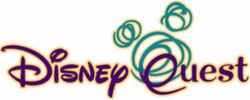 DisneyQuest is a small "indoor theme park" located in Downtown Disney (Florida) on the west side next to the Pleasure Island AMC Cinemas and Pleasure Island Entertainment Complex. It contains a lot of virtual-reality attractions, small motion simulator rides, free arcade games, and a Cheesecake Factory.
Entrance
When you enter DisneyQuest, you see busts of about ten Disney characters. Then, you get onto an elevator and watch the Genie appear on the screen inside of it.
Attractions
First Floor
Pirates of the Caribbean: Battle for Buccaneer Gold
Second Floor
Closure
DisneyQuest is set to close at the middle of 2017 to make way for an NBA sponsored sports pavilion where official sporting events may likely be held.
Ad blocker interference detected!
Wikia is a free-to-use site that makes money from advertising. We have a modified experience for viewers using ad blockers

Wikia is not accessible if you've made further modifications. Remove the custom ad blocker rule(s) and the page will load as expected.