Disney's Art of Animation Resort

Location

Hotel/Resort Type

Value

Pools

- Big Blue Pool - Flippin' Fins Pool - Cozy Cone Pool -

Restaurants/Dining

- Landscape of Flavors Food Court - Pizza Delivery (to room) - The Drop Off Pool Bar

Rooms

- Suites - Standard Rooms -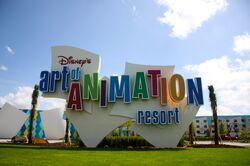 General Information
Disney's Art of Animation Resort is a "value" Resort at Walt Disney World. The original plan for the land it is located on was to extend the Disney's Pop Century Resort. The resort opened in 2012, and has the largest hotel pool in Walt Disney World. The resort is mostly suites, which are located in the Cars, Finding Nemo, and Lion King buildings. The standard rooms are located in the Little Mermaid buildings. There is a food court called Landscape of Flavors, and its pool is the only pool in Walt Disney World which has music playing inside the pool so that people can hear the music while swimming. There is also a poolside bar (the Drop Off) and 3 pools. The resort if located next to Hourglass Lake and is located across from the Pop Century Resort, and is the most expensive "value" resort in Walt Disney World.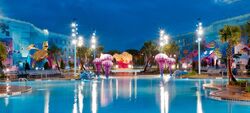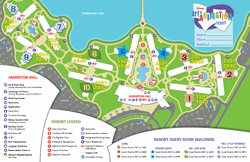 Ad blocker interference detected!
Wikia is a free-to-use site that makes money from advertising. We have a modified experience for viewers using ad blockers

Wikia is not accessible if you've made further modifications. Remove the custom ad blocker rule(s) and the page will load as expected.