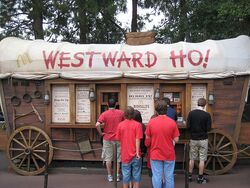 Conestoga Fries was a counter service restaurant sponsored by McDonalds in Frontierland at Disneyland Park. On May 23, 1996, McDonalds and The Walt Disney Company announced a 10-year multi-divisional, multi-national relationship that was effective on January 1, 1997. On November 11, 1998, Conestoga Fries opened sponsered by McDonalds. The menu was McDonald's French Fries, soft drinks, and bottled water. On January 1, 2007, McDonalds and The Walt Disney Company did not renew there contract. Conestoga Fries operated for the next 20 months with the McDonalds logo on it. Then finally, on September 2, 2008, the McDonalds logo disappeared and Conestoga Fries was closed permanently.
Ad blocker interference detected!
Wikia is a free-to-use site that makes money from advertising. We have a modified experience for viewers using ad blockers

Wikia is not accessible if you've made further modifications. Remove the custom ad blocker rule(s) and the page will load as expected.