Alice's Curious Labyrinth is a hedge maze attraction located in Fantasyland at the Disneyland Park in Disneyland Resort Paris.
Attraction Layout
The maze is made up of two parts: The Tulgey Wood section and the Queen of Heart's Castle and Hedge Maze. The maze's pattern is based of the Cheshire Cat. Some of the swirls are said to represent the roses from the original story. The goal is to reach the Queen's Castle. Here, you have a nice view of Fantasyland.
Tulgey Woods
The first and easiest part of the Labyrinth focuses on Alice's journey through Wonderland. It starts with guests entering the White Rabbit's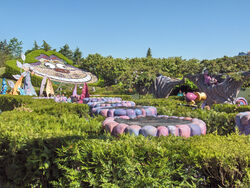 Hole, and arriving in a wood featuring strange animals, doors of various sizes (for instance some can only be opened by children), and several signs with conflicting
 directions. Guests then walk under fountains which spray streams of water of the guest's heads.
Then they discover the Caterpillar's Mushroom Lair, and see the Caterpillar smoking his hookah while it says quotes from the movie. Finally, guests enter the Caucus-Race, led by the Dodo Bird, as they circle him with animals (as the movie presents that scene). The first part of the Labyrinth ends up here with a small "Cheshire Cat Walk" Maze and the scene of card soldiers painting the white roses red.
Queen's Maze
This is the second and tougher part of the Labyrinth. It represents the Queen's Maze as long as Alice's encounter with her. As guests wander through it, the Queen or her card soldiers pop up from time to time, while she screams her famous "Off with their heads!"
The Queen's Castle stands in the center of the maze. Guests reach it in the end, and can therefore go on top of it, where they are given a sight of Fantasyland. A slide used to be featured on the side of the Castle, for children to go down without the stairs, but it was removed due to safety reasons during the park's opening year.
Ad blocker interference detected!
Wikia is a free-to-use site that makes money from advertising. We have a modified experience for viewers using ad blockers

Wikia is not accessible if you've made further modifications. Remove the custom ad blocker rule(s) and the page will load as expected.